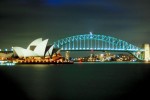 If you are looking for a decent campervan hire company in Sydney then you will discover pretty quickly that there are plenty to choose from. In fact, there around 31 different camper hire companies to choose from in Sydney so the trick is going to be choosing the right one for you.
Being the biggest city in Australia, all the major campervan rental companies have a presence there, but there are also the intermediate sized companies and some smaller, family owned ones to consider too.
If you group the hire company depots by location, they can be kind of looked at in 3 ways:
Near the airport, near the city and "everywhere else"; this last category is generally the smaller companies.
So, near the airport consists of:
Viva Campers
Cheapa Campa
Hippie Camper
Travellers Autobarn
Apollo Campervans
Mighty Campers
Britz Campers
Maui Morohomes
Wicked Campers
Near the City (Kings Cross):
Spaceships
Travel Wheels
Jucy
and, well, the rest are spread all over the Sydney suburbs with the next closest to the airport probably being All Season Campervans.
If you do a bit of research you will soon find that the companies nearest the airport and the city are the major players in the campervan hire market. The exception being Viva Campers who are bit of an up-and-coming kind of company.
Probably the biggest shock about location would be Camperman Campervans who has quite a presence nationally but has their Sydney depot a lifetime away in the southern suburbs. If you want a day at Cronulla beach before getting your campervan, this might be the crowd to book with, otherwise they can be a royal pain to get to.
If you search on this site in the "Sydney" category (should just be listed in the side bar), then you will find every campervan hire company that is listed to have a campervan hire depot in Sydney.
Alternatively, fill in this site's booking form with "pickup" in Sydney and you will get the best results for hire companies that can service someone looking to pick up a camper in the Sydney region.
This site does not represent all campervan hire companies in Sydney with its booking engine – so you won't get prices for all companies, however all the reliable major players are represented and so are the best of the intermediates. Some independents will also pop up in the results.
Happy campervan hunting and enjoy your adventure.