Why Rent A Campervan With Us?
Up to date information and rental prices for campervans, RV's and Motorhomes around the world
We provide the most essential information  for those travellers who love the great outdoors. With wide expanses of land to explore the world over, there is no better way to travel than in a campervan, RV or motorhome where the transport and accommodation are rolled into one. This mode of transport allows you to see the places you want to see, and stay where you want to stay for as long as you like without having to plan it all in advance. In most cases, it will work out far cheaper than other transport and accommodation combinations whilst giving you the freedom that most people only dream about.
There are many fantastic campervan and motorhome hire companies around the world, so how do you decide which one to go with?
An informed decision is always the best decision, which is why eCampervanHire is here to help. We provide all the information you could possibly need for
We even specialize in campervan and motorhome hire for the Scandinavian countries like:
You can even select and book  your campervan or motorhome with hundreds of companies through our page for added convenience.
We can help you find a camper or motorhome wherever you may be travelling!
By working with companies in over 26 countries you will be pleased to know that no matter where you are going, you will only need to remember the one website in order to book your campervan, RV or motorhome. In addition to providing a fantastic booking service, we also offer invaluable information that aids in your decision of selecting which company to go with. For many of the numerous companies we have listed, you will find the pros, cons, a summary and then a detailed review. In many cases, you will find that the featured company has been rated by numerous past users, ensuring our information is up to date and reliable. Australia is such a popular destination we have even set up it's own separate web site which you can get to from the main menu or you can go directly from here. This gives extensive reviews of nearly every campervan hire company in Australia and compares prices on over 35 different brands (not just the top 7 like so many other sites do).
You will find that our search engine is geared to helping you find great specials and discounts, so you can be sure that you are getting the best deal. When it comes to information on campervan hire or motorohome rental travellers can trust, we are the number one website to visit!
The Difference Between Campervan Hire and Motorhome or RV Rental
Generally speaking campervans are a little smaller than motorhomes. However, the difference between a Motorhome and an RV is really only the different naming between countries. In the America's the term RV is often used to describe what is also called a motorhome in other parts of the world.
In the USA and Canada the Motorhome and RV style of vehicle dominate the market. These are generally larger vehicles that are quite spacious inside and some even come with a shower and toilet. With so much space in those countries it is nice to be able to spread out and have plenty of room to move inside your portable home. In Europe, the Campervan is more popular as they take up less room on the thinner roads and a lot easier to manoeuvre in the small streets of the dense cities.
In Australia and New Zealand there is an equal mix of both campervans and motorhomes available. In these countries vehicles are rarely termed "RV's". These are 2 of the most popular countries in the world to rent a campervan or motorhome and generally the choice on whether to rent a motorhome or hire a campervan is purely based on budget and desire of comfort. Generally a motorhome is more luxurious and spacious compared to a campervan that will be smaller and cheaper. However, there are players in the market that blur the lines in size, price and quality.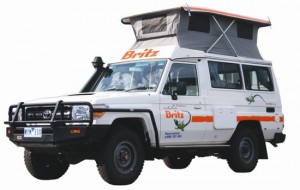 Then there are aslo the 4wd (a.k.a. 4×4) campervans for hire. These are most popular in Australia as there is so much outback to see there. These campervans also come in various shapes and sizes and all can go into 4 wheel drive so you can go places most tourists only dream of going.
No matter where your campervan or motorhome adventure takes you, start it the right way; search and book in minutes with eCampervanHire.